Portland Tours

Recommendations for the BEST Sightseeing in Portland
Planning your first trip to Portland. Portland tours give you the best way to experience the city. Let others take care of all the logistics. You will learn Portland's history and culture, see some spectacular scenery, and eat some great food.
Take a look at the Portland sightseeing tours below. There are half-day tours and all-day tours including one that takes you up the beautiful Columbia River Gorge to Multnomah Falls.
These tours are for small groups and can fill up easily.  To avoid disappointment, book on line before you travel.
---
Best of Portland
Get to know Portland during this half-day tour.  Visit Portland's neighborhoods including Pearl District and Nob Hill.  See the International Rose Test Garden in Washington Park and visit the Pittock Mansion. Learn about the city's history and make a stop at the largest book store in the world.  Do all of this in a small group in a comfortable Mercedes van. They will pick you up at your hotel.
Learn more about this Portland tour.

---
Portland Sightseeing and Columbia River Gorge
If you have a day to spend you can do all of the things in the above tour plus also make the trip up the Columbia River Gorge to Bonneville Dam. Learn the geological history of the gorge and see Bridal Veil Falls, Horse Tail Falls, and the famous Multnomah Falls.  Continue on to Bonneville Dam.  The return trip stops at Vista House with it's scenic overlook of the gorge.  If you don't have a camera, buy one for this trip.
Find out more about this tour.
---

Portland Hop On Hop Off Tour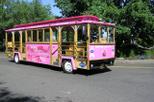 With a one- or two-day pass you can hop on this trolley or get off at eleven different points throughout the city.  That means you can stay as long as you like at an attraction and then travel with the trolley to the next destination you want to visit. Hop off and shop at some interesting shops and then hop back on when you are ready.  The trolley has both open-air and indoor seating and there is a guide on board to answer questions and tell you about the history and culture of Portland.
Find out more details about this tour.
---
Portland Segway Tour
A Segway tour of Portland is a really fun way to see city highlights downtown. You can take a one- or two-hour tour. Tours include China Town, the Willamette River, and the Pearl District.
---
Small Group Beer Tasting
There are 38 microbreweries and craft beer makers in Portland and here is your chance to tour some of them and taste their great brews. Your group will have no more than ten people in it so you won't feel like you are a member of a large herd. You will see the workings behind the scenes and talk to the brewers.  You're picked up from your hotel and delivered back at tour's end.
---

Downtown Portland Walking Tour
This tour begins at the Multnomah County Library in downtown Portland.  You will explore the Pearl District, Pioneer Square, visit Portland's food carts, see city parks, hidden gems, and gardens on foot.  Get some exercise and learn about the city.
Get more information on this walking tour.
---
Portland Brewery Bike Tour
Visit some of Portland's best microbreweries and see some of the city's hotspots on this three-hour tour.  Fee includes bike rental and tasting fees.

More information.
---
Mississippi Avenue Food Tour
Historic Mississippi Avenue is one of Portland's hotspots that has some of the city's best eateries, breweries, and shops. You will visit popular brick and mortar restaurants and food carts and enjoy craftsman beer, wine, and cocktails.

More tour details.
---
Downtown Portland and Pearl District Walking Food Tour
This tour makes seven stops at popular restaurants and trendy food carts to give you a good taste of what each one offers. It covers both the downtown area and the Pearl District, one of Portland's favorite neighborhoods. The group is limited to 12 people with a guide who will tell you all about the history and local culture.

Details of tour.
---
NW 23rd Avenue and Alphabet District Food Tour
NW 23rd is a neighbourhood with what is called "Old Portland" architecture, up-scale shops, and restaurants. On this tour you will meet the chef's of some of the best and sample their food.  As you walk, your guide will fill you in on the history of this area of Portland.

Read more about tour.
---
Portlandia
Tour of Portland
Visit the filming spots of the popular TV show Portlandia. You will stop at Voodoo Doughnut, see Mississippi Avenue, see where "Stu's Stews" was filmed and  much more. Your guide will tell you all about the best places to shop and eat in "The City of Roses."

Find out how you can take this tour.
---
More Oregon Tours
---
Oregon Vacations

›
Portland Oregon

›
Tours