Oregon Wine Tours
These Oregon wine tours take you through some of the most breath-taking beautiful farm land you will ever see.  Rolling hills, red earth, groomed vineyards, filbert orchards, lavender fields and pastures is what you will enjoy as well as fresh air.  Your guides are knowledgeable and will tell you about the history of the area and the culture of the people past and present.
---

Small Group Willamette Valley Wine Tasting Tour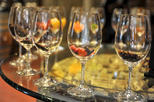 Enjoy tasting the wines of Oregon wine country, a gourmet lunch, and some of the area's best scenery on this half day tour.  The tour is limited to ten people so you really do get the personal touch when you meet the winemakers and see the behind the scenes workings of the wineries. You will be picked up at your hotel and delivered back at the end so you don't have to worry about driving and traffic.
Learn the details of this tour.
---

Two-Day Wine Tour Willamette Valley and Mt. Hood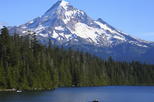 This two-day tour includes the visits to the wineries visited in the wine tasting tour above plus a tour of the Columbia River Gorge historic highway to Multnomah Falls. You will have the opportunity of some nature walks along the way. The second day you travel around Mt. Hood and visit some wineries in the Hood River Valley. You will stop for some short hikes along pristine streams and make a visit up the mountain to beautiful Timberline Lodge. This tour includes a one-night stay in a 4.5 star hotel.
Find out more about this trip.

---

Willamette Wine Country Bike Tour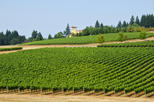 This 5-hour guided tour through Willamette Valley Wine Country stops at two wineries for tastings.  You will ride through rolling hills with beautiful farms and vineyards. This is the area where the first pioneers to Oregon first settled. The tour is limited to 13 people.
Get more information on this bike tour.
---

Columbia Gorge and Wine Tasting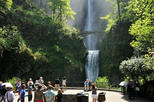 Enjoy the Columbia Gorge National Scenic Area where this mighty river cuts through the Cascade Mountains north of Mt. Hood. Visit the spectacular Multnomah Falls, taste some of the Hood River Valley's best wines and meet the vintners who make them.
---
More Oregon Tours
Oregon Vacations

›
Oregon Wineries

›
Wine Tours